In our previous tutorial blog Manage Profiles on Netflix, we learned how to create multiple profiles for your Netflix account. Follow our technology blog and subscribe to Stoptoexplore for regular updates on new tutorials.
About
Profile management is one of the most important features of Netflix. When sharing your Netflix account especially with kids its important to activate parental control. Netflix is not only one of the most famous and trending Apps to watch online movies and tv shows for people around the globe. But it also comes with a lot of age-inappropriate content. The contents are influential for kids and adults as well, which can be also disturbing at times. So it's really good that you have an option like parental control, which not only gives complete control over what your kids should watch but also allows you to restrict shows that you don't want to watch.
The parental control can be activated through the mobile app as well as on a web browser. Activating on the web browser, you get additional options. With stop-to-explore tutorials learn how to activate this feature in few easy steps and complete guidance.
Steps to Edit Profile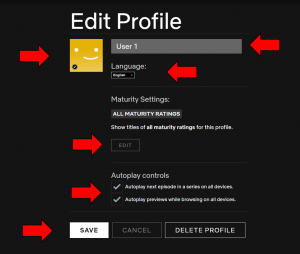 Sign to your Netflix Account
Once you are signed in, in the top right corner of the screen you would see your profile name. Click on it to open the sub-menu.
In the drop-down menu, you will see the option manage profile, click on the option.
Click on Edit Profile
Select the Maturity Ratings
Select the Autoplay controls
Finally, Click on save to get it activated
Activate Parental control
Click on the Kid's profile or generate one if you haven't already.
Follow the steps from Manage Profiles to create one
Click on Edit Profile
Click on Edit Maturity Ratings
Sign with your password
Select Viewing age restrictions
Click on save to complete the Procedure
Title restrictions for Kids
Click on the Kid's profile or generate one if you haven't already.
Select Edit Profile
Edit maturity Ratings
Scroll down to the bottom
Enter the specific title or show to restrict
Finally, click on save
Click on the home option
Search the restricted title to verify if it is blocked.
Subscribe and follow our tutorial blog. Mentioned your queries in the comment section below for further assistance.