Movie Trailer
"The sensitive suffer more; but they love more, and dream more."

Augusto Cury ( Dreamseller )
The Dreamseller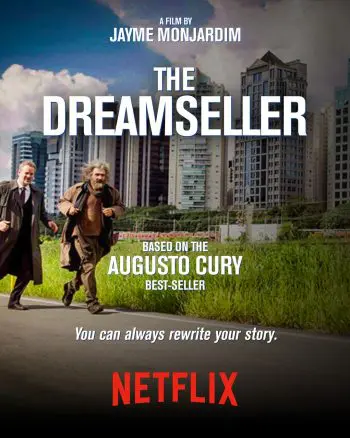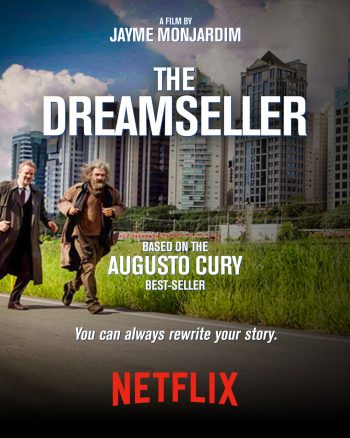 Movie Review (The Dreamseller)
"We alll need to buy Coma, a second chance to rewrite our Story"

The Dreamseller
The Dreamseller is a 2016 Brazilian movie. Based on a disillusioned psychologist who tries to commit suicide until he strikes up a friendship with an unlikely savior who teaches him a new way of living.
Characters (The Dreamseller )
The Dreamseller & Júlio César
The Dreamseller is a renowned businessman The Mellon Lincoln – with a fortune evaluated at 50 billion dollars. The third richest man on the Forbes list in 2013. He owns 200 Companies such as banks, retails, IT, and construction companies. After the death of his wife and daughter Mellon goes missing for years on street. He has been living on the streets and preaching to people about how life is important and valued with his crazy quotes and speeches
Júlio César is a disillusioned psychologist and a troubled father with a distant relationship with his son and wife. After losing hope of getting his family back together and building a relationship with his son he takes a severe decision of giving up his life.
Movie Plot
Júlio César Lambert is standing outside on the 21st-floor window to attempt suicide after losing hope for building a relationship with his son. Being a renowned psychologist, an eminent professor at the federal university. The dream seller convinces Júlio César from giving his life away just like that by offering him to sell a coma, a second chance to rewrite his life. Júlio follows Mellon as he requests him to join him overnight for dinner and some sleep.
The next day morning when he sees that he is all over the front page, he gets distressed about his career. As no one would like to get treated by a doctor who is crazy. Mellon tells him to let it go and lets search for something to eat. After spending time with Mellon and the way he looked at life he gets inspired and considers him as his master.
Mellon convinces an elderly lady to let go of the small kid who steals from her and the way he speaks projects life. Both Júlio and an elderly lady burst out into tears. Mellon The Dreamseller – has a completely different way of looking at life.
Final Plot
Mellon becomes an online sensation, people start calling him The Dream seller. He let people understand that they need to find joy in small things. We all work hard to achieve physical and financial goals. But in the end, it's important about life, not the brand. Which impacts his Ex-company sales and his old colleague's attempts to kill him for his preaching.
He is called on a TV show to be exposed as a fraud and a crazy person. But Mellon impresses everyone with his speech. He shares his learning and experience with people. No matter how much money you make, you are wealthy when you have your loved ones with you.
Júlio César asks for forgiveness and gets a blessing from Mellon, after finding his true identity. The movie ends with Júlio saving his son from the same building where he attempted suicide.
Negative Elements
The movie consists of suicidal content, which does show weakness or depressing scenes. The use of drugs and alcohol is been highlighted.
Takeaways
In the end, all I wanna conclude is just Breathe, live life to the fullest. If you have done something, failed in anything which could have turned your life. It's never too late for a second chance. All we need is a person like Mellon The dream seller to show us the actual worth of life.
"Frustrations are the privilege of the living and transcending them is a privilege of the wise."

Augusto Cury.
Q/A
Every individual has a different opinion about The Dreamseller, after reading the review what do you think, would there have been the possibility of a better ending. Do you think Mellon could have started with his session being an online motivational speaker? Share your views in the comment section and do let us know if you want any specific movie to be reviewed.